There are absolutely way too many sippy cups on the shelves these days. When I started to wean Savanna off of the bottle and look for sippy cups, I ended up spending a small salary on cups. We would buy one and  try it out. It only took a day or so before we figured out it leaked, the straw sucked, or she would just throw it across the room for whatever reason and go buy some more. Out of the small army of cups we purchased, we were able to narrow it down to 2 or 3 kinds that we now can't live without. That's it! To make your lives a little easier I have included a review of the cups we tried and why we like the ones we stuck with. I'm sure there are lots of other great ones out there that I am missing but if I buy one more different cup my husband might cut up my debit card.  Also, every kid is different so what didn't work for us might be great for you.  You most likely will try out a bunch for yourself, but hopefully this list can help you make a choice when staring at that giant sippy cup wall in your local baby store.
1. Phillips Avent My Bendy Straw Sippy Cup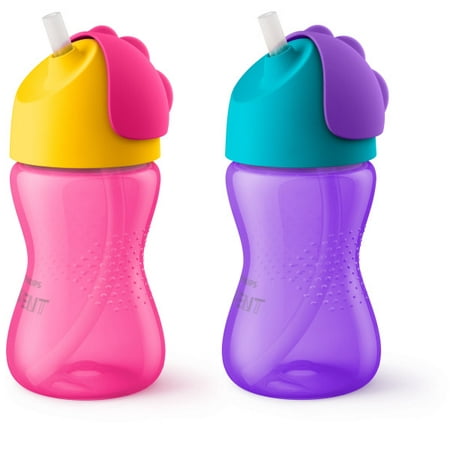 When Savanna started eating solid foods I began experimenting with baby safe smoothies. She loved them. I would serve it to her in a little squeeze pouch using my Infantino Squeeze station. As she grew out of pureed food, I wasn't using my Squeeze Station as much and wanted to find a cup she would be able to use. I found these in ShopRite's baby isle (side note, Shoprite has a surprisingly amazing baby isle). It looked like what I needed and decided to give it a try. Unlike most of my sippy cup purchases this one was a win! She was easily able to suck from the straw at 9-10 months and easy for little ones to hold. You get two in a pack and they are easy to clean as well. The con of this cup is that it might take your baby a few days to get used to the fact that nothing will come out if it is tilted like a bottle. This wasn't much of a problem and Savanna learned how to manage it pretty quickly. It also is not sold in our local Buy Buy Baby or Target. I have only been able to find it in Shoprite. Good news is Amazon does have 2 packs for $7.19 ( here's the link).  These are our staple cups that we still use today for water and smoothies.
Savanna Says: Her fave, definitely a 10
2. Nuk Silicone Spout Learner Cup
This was one of the first cups I bought when Savanna was 6 months. It wasn't bad, however it came out too fast for her and she couldn't really figure it out at that point. Once she was around 8 months this worked out well for her to have a little water with her food. It still came out a little fast and she would cough after taking a few big sips. She seemed to perfer the straw cups over this one as they were easier to control. This became more of our back up cup when everything else was dirty or temporarily lost in the back seat of my car.
Savanna Says: She gives this one a 7
3.  Munchkin Miracle 360 Trainer Cup
This one was definitely interesting.  This is embarrassing to admit, but when I first got it I could not figure out how to drink from it! The directions aren't detailed and I must have looked like such a whack sucking from all angles of this cup. I think I ended up having to google "how do you drink from the Munchkin Miracle cup". It turns out you simply drink from it as you would a normal cup. The liquid comes out from underneath the rubber topping which keeps it anything from spilling. My daughter figured it out right away and was doing well with this cup, but she would cough or choke on the water after a few sips. It eventually got worse and I stopped giving it to her and we stuck with our straw cups. I actually tried to give it to her a few weeks ago and she couldn't figure out how to work it! So now it's part of the sippy cup grave yard in our cabinet. I would suggest using this around age 1. Maybe I missed the window and introduced it too early. I would say it's a good one to try out, just don't wait to long to wear your kid gets confused because of all the cups shes tried like mine!
Savanna Says: She gives this one a 7
Nuby Easy Grip Soft Spout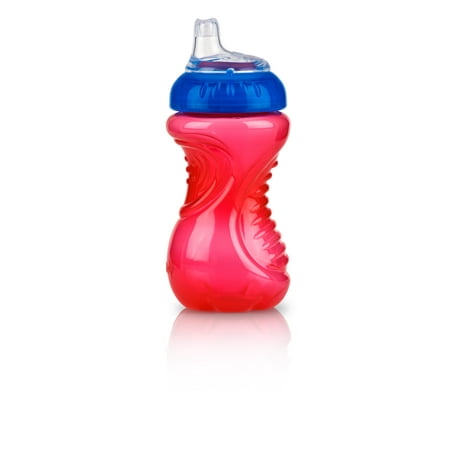 This has become another one of our standard cups. For $3.50 a cup it does a pretty good job. At the time, I was getting Savanna off the bottle and wanted to find something similar to a bottle for a smooth transition. I found this one again in a grocery store. They don't really leak, only if they are left completely upside down for a period of time. This is our "milky baba". I probably should be ditching it soon, but we'll hang on to it for just a little bit longer : )
Savanna Says: She loves her babas so of course this one is a 10
Lollacup
This cup might be better known as the Shark Tank sippy cup. Originally featured on Shark Tank, this cup got its fame for the weighted straw it comes with allowing toddlers to be able to drink from it even when tilted. That's pretty cool , but the price and leakage are not. This guy will cost you $16.00 for one cup. Also, when tipped upsidedown it leaks pretty sufficiently. My daughter figured that one out and now does it purposely every time I hand her the cup. Needless to say, I would put your $16 towards some other cups you might want to try out.
Savanna Says: She gives this one a 5
Skip Hop Stainless Steel Little Kid Straw Bottle
During the summer months I was looking for something that would keep water cold for when we are outside. I bout this skip hop cup and it turned out to be the biggest rip off of all. It is nearly impossible to suck out of the straw when the lid is all the way on. This makes no sense at all. The only way to be able to drink from it is to have the lid loosely screwed on which is pointless because we know how that will end up. I tried the 2nd straw that was included and it still didn't work. Maybe I just have a defective cup but for $12-$18 I would skip this purchase.
Savanna Says: She gives this one a 3